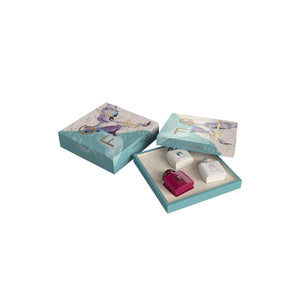 Celebrating classical femininity and womanhood in the modern world, Cygnus captures the loyalty, lightness, grace, and fragility of the swan through its white florals and soft spices. An olfactive romance, this set portrays both the breathtaking beauty and the liberating force of nature.
Ashore
On the coast of Ras Al Jinz, mid-summer, when the sun is in the middle of the sky, Ashore, depicts a mirage of the senses.
Crimson Rocks
Crimson Rocks conjures the majesty of Al Hajar mountains in all their glory at dusk. Standing tall at the top, one is engulfed by a sweet sense of peace.
Material
Material is a paradox – through materiality, it evokes immateriality, teaching us to look beyond appearances and to realise that what matters is often unseen; an experience akin to standing in a grove and seeing in the sweltering shade a multitude of textures and manifold hues of wood and leaf and bark; all coming together into one.
ABOUT THE BRAND
Amouage is an international luxury fragrance house renowned for creating some of the most finely crafted perfumes in the world. Founded in the Sultanate of Oman in 1983 to be 'The Gift of Kings', the House has redefined the Arabian art of perfumery and garnered a global reputation for bringing innovative modernity and true artistry to all its creations. Masterfully paying tribute to its heritage, Amouage is a unique fusion of East meets West that defines avant-garde opulence. It expresses the contemporary majesty of Oman - a historic trading center for incense and myrrh - around the globe, with arresting and alluring collections that speak to a sophisticated, confident and well-traveled discerning clientele who seek something compellingly precious, extraordinary and personal, every day.