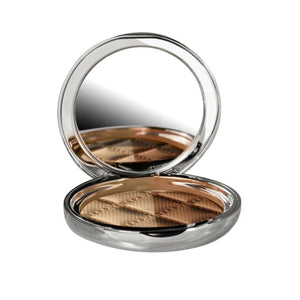 Terry de Gunzburg presents her very own Contouring Compact. This foundation-and-blusher duo sculpts and defines facial features, while the exclusive wrinkle correction active ingredient, Densiliss technology, conceals lines and blurs imperfections.
HOW TO USE?
Using the puff, apply: 1. The dark shade to refine the nose and sculpt cheekbones. 2. The light shade to illuminate the key parts of the face (highlight the curves of the cheekbones, the forehead and the brow bones). 3. Blend lightly to create a more pronounced and sophisticated effect, and an ultra-natural finish.
ABOUT THE BRAND
Born in Paris, BY TERRY is a premium skincare-infused makeup brand with a specialised focus on complexion, created by Terry de Gunzburg. It features skincare and makeup products infused with skin-loving benefits. The Rose and the Hyaluronic Acid have come to define the brand and are signature ingredients in many of BY TERRY's bestselling products.