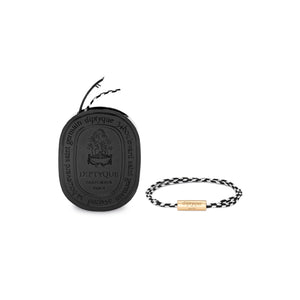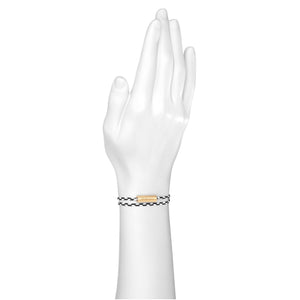 This perfume-infused bracelet diffuses the woody and velvety notes lightly spiced with sandalwood of Tam Dao. Fitted with a detachable clasp, it is easy to tie and untie. Worn whenever the mood takes you, it can be lengthened or shortened as you wish.
HOW TO USE?
HOW TO USE?
For a more intense diffusion of the fragrance, wearers are recommended to wrap the bracelet twice around the wrist. To conserve its olfactory qualities, do not place the bracelet under water and renew it each week without changing the clasp. WARNING: Not suitable for children under the age of three. Not recommended for people with sensitive skin. Discontinue use immediately if your skin becomes irritated. If irritation persists, seek medical attention immediately. Pull the bracelet from the dispenser and wrap it once or twice around the wrist. It should be loose enough to pass an index finger between the wrist and the bracelet. Lay the bracelet at the central point, hold it taut and close the dispenser cover to cut the bracelet thanks to the integrated blade. Tie a tight knot at each end of the bracelet. Pass one of the knotted ends through the hollow section inside the clasp and pull sideways to secure it. Wrap it around the wrist and repeat the previous step with the other end. The dispenser contains up to 30 bracelets.
ABOUT THE BRAND
ABOUT THE BRAND
Diptyque is a contemporary, emblematic, pioneering PARFUMERIE Maison; a discreet precursor of authentic luxury and the art of living through the senses, where fragrance and art are integral to everything.
PERFUMER & ARTIST in Paris since 1961, Diptyque is constantly innovating, offering totally surprising olfactory collections, facecare and body care, scented candles, clever decorative fragrance diffusers that combine tradition and cutting-edge technology, as well as distinctively original interior decorating collections that add extra soul and charm to any home.
In its ongoing quest for quality and excellence, Diptyque continues to uphold a free-spirited, artistic approach, hovering between tradition and avant-garde, to create products that offer daily imaginary journeys of the mind and the senses.
It's almost 60 years of free-spirited, artistic Parfumerie, rooted in joyful creativity and enchanting, eclectic encounters.
INGREDIENTS
INGREDIENTS
silicone - parfum (fragrance) - benzyl - alcohol - citral - citronellol - limonene - eugenol - farnesol - geraniol - linalool.