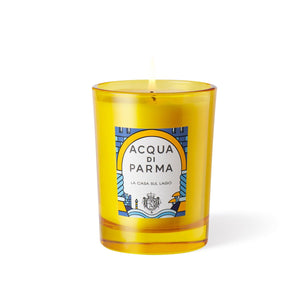 La Casa sul Lago Italian Moment Limited Edition Candle
Product Highlights
Olfactive family: Floral aquatic
Olfactive Notes: Calabrian, bergamot, lily of the valley, cyclamen, aquatic notes, musk, amber
A limited edition evoking a sense of serenity, this La Casa sul Lago candle features an imaginative label of vivacious patterns and bold elements that invites you to escape through the window into a lakeside paradise. Diffusing notes of serenity and garden florals, the candle comes packaged in a colourful play of illustrative details depicting symbolic views of the idyllic life by the lake.
HOW TO USE?
Burning time: up to 50 hours
ABOUT THE BRAND
Founded in 1916, Acqua di Parma was born out of a vision to share the yellow gift of Italian Sun, Soul and Style with the world. Products are lovingly made by traditional craftsmen, where imperfection is cherished. By celebrating simplicity and generosity, it is all about Italian lightness at its heart.