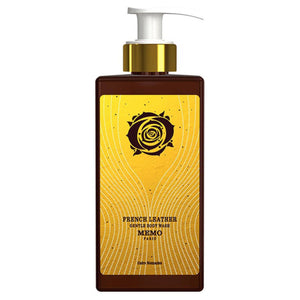 French Leather Gentle Body Wash, 250ml
What is being French all about? Being deceptively casual. Not quite nonchalant. Leather that rises up beneath the rose. A sparkle in the eye. French Leather becomes a shower gel and leads you into uncharted aquatic territory.
ABOUT THE BRAND
ABOUT THE BRAND
Husband and wife team Clara and John Molloy founded fragrance brand MEMO almost a decade ago, having exploredthe world over, heaving bags of inspiration along the way. With that in mind, the Molloys produced a collection of scents based on the cities they have visited and loved, including Russia, Morocco, Ireland, Ibiza and Spain, amongst others. Each unique fragrance evokes a different memory, making itideal for those who want to carry the world on their shoulders - in this case, their pulse points.