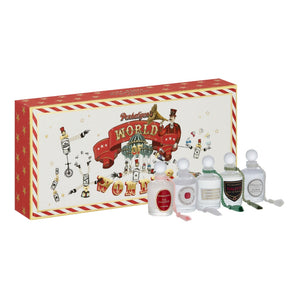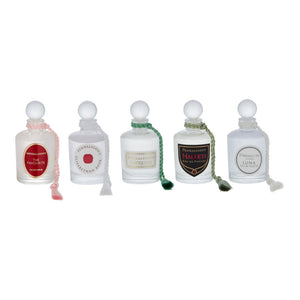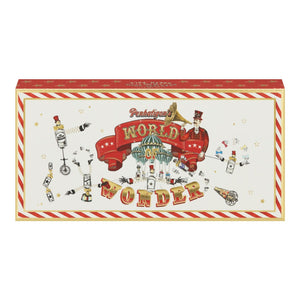 A festive gift set of five feminine scents that are known to steal hearts, glances, and the show!
Jump on the bandwagon with five ladies who are seldom out of the spotlight. The perfect balance of charm and cheek, these five fragrances will leave her clapping like a performing seal. Oh, goodie!
Includes: The Favourite, Elisabethan Rose, Halfeti, Empressa and Luna in 5ml.
ABOUT THE BRAND
THE MAN WHO SET A THOUSAND NOSES TWITCHING
Our story starts with our founder, William Penhaligon. A humble Cornish barber who rose to the Royal Court, and trimmed the Shah of Persia's beard.
William's first perfume was Hammam Bouquet, inspired by the Turkish Baths where he was resident barber, trimming the tresses of Mayfair's bright young things. The fragrance was exotic. It was exciting. It caused quite a stir. The bright young things clamoured for more.
William, of course, obliged.
Luckily, he was no one-hit wonder. A slew of fabulous fragrances followed, catapulting this barber-businessman to the heights of British Society. But William's most remarkable concoction was something else: a company that would build on his legacy.
Today, Penhaligon's is perhaps the world's most esteemed fragrance house. We hold two Royal Warrants, and offer a dizzying array of unusual and electrifying scents to those with discerning noses, be they royalty or not.
We think William would be rather pleased with how things have turned out.