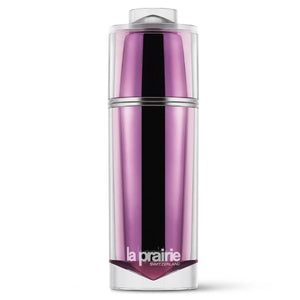 Platinum Rare Haute-Rejuvenation Elixir 30ml
Inspired by the suspension of time inherent to the furthest reaches of the cosmos where platinum originated, the scientists at La Prairie sought to recreate the "Platinum Moment" through Haute-Rejuvenation. Pursue the Platinum Rare Haute-Rejuvenation experience with the ultimate serum to rejuvenate as if time were suspended – Platinum Rare Haute-Rejuvenation Elixir – for rejuvenation made everlasting.
HOW TO USE?
From the moment it glides on, the texture envelops the skin, leaving it feeling protected in a cashmere-soft layer. Apply in the evening after cleansing and toning. Slowly squeeze the dropper and dispense a single drop into the palm of the hand. Using fingertips, smooth gently over entire face, avoiding eye area. Allow to absorb completely. Immerse yourself in the pinnacle of rejuvenation with the Platinum Rare evening ritual. After cleansing and toning, begin with Platinum Rare Cellular Life-Lotion to prepare the skin. Follow with Platinum Rare Cellular Night Elixir and Platinum Rare Haute-Rejuvention Eye Elixir, Platinum Rare Haute-Rejuvenation Eye Cream and finish with Platinum Rare Haute-Rejuvenation Cream.
ABOUT THE BRAND
La Prairie was born on the shores of Lac Leman where a pioneering doctor discovered the key to timeless beauty. His revolutionary ideas transformed the way we age and his methods became closely-guarded secrets whispered in rarefied circles around the world. La Prairie has become a symbol of excellence, a name inextricably linked with timelessness. Made from natural riches sought deep in the ocean, precious minerals from the Earth's core, flora indigenous only to the mountains of Switzerland and the latest technological processes, La Prairie is forever on the forefront of advanced science.
Benefits
- Encourages the detoxifying process
- Helps improve skin's respiration
- Provides skin life-infusing nutrients
- Boosts skin's self-defense capacities