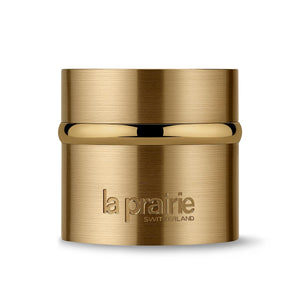 Pure Gold Radiance Cream 50ml
When the sun's rays sweep across the Swiss mountain faces, it is a moment when beauty imposes itself – undeniable. It is an instant that emits an understated resplendence – a radiance like no other. Fleeting, it is the hour when beauty is elevated to grace – the grace of the golden hour in the crown of the Alps.
Inspired by this fleeting moment, La Prairie seeks to recreate its unique radiance and impart it to the skin, imbuing it with resplendence, as if lit from within. One rare, immutable ingredient can transmit this undeniable beauty: gold. A noble metal, its warm, flattering lustre withstands the passage of time, remaining, persisting. It bestows its radiance in glowing waves.
This rich, luxurious moisturiser ignites the complexion with the radiance of pure gold, returning a glow to the skin that time has extinguished. This cream, infused with the Pure Gold Diffusion System, provides nutrients, smooths the skin, evens its texture, comforts and deeply hydrates.
HOW TO USE?
Apply morning and evening after cleansing, toning and application of Pure Gold Concentrate and Pure Gold Eye Cream. Begin with a sliding motion between eyebrows, sliding up to forehead and continuing towards the temples. Slide across the cheekbones towards the top of nose, continue down to jawline and to chin. Finish by sliding with one hand around mouth. Repeat entire pattern until absorbed.
ABOUT THE BRAND
La Prairie was born on the shores of Lac Leman where a pioneering doctor discovered the key to timeless beauty. His revolutionary ideas transformed the way we age and his methods became closely-guarded secrets whispered in rarefied circles around the world. La Prairie has become a symbol of excellence, a name inextricably linked with timelessness. Made from natural riches sought deep in the ocean, precious minerals from the Earth's core, flora indigenous only to the mountains of Switzerland and the latest technological processes, La Prairie is forever on the forefront of advanced science.
Benefits
- Enhances the appearance of radiance in the skin instantly and over the long-term
- Provides nutrients to the skin
- Evens and smooths skin's texture
- Helps in the restructuring of the skin and in increasing its volume
- Hydrates deeply
- Skin is revitalised, replenished, enriched,