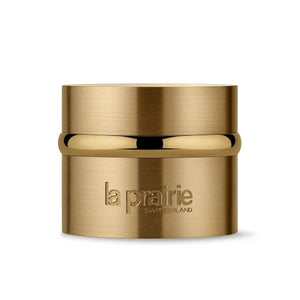 Pure Gold Radiance Eye Cream 20ml
Captivating, enthralling, the soaring majesty of the Swiss Alps awes. Their ancient minerality, their eternal snowy mantel, their lofty summits all conspire to strike with wonder the hearts of those who have the fortune to gaze upon them.
Inspired by the fleeting moment of the Golden Hour in the crown of the alps, La Prairie seeks to recreate its unique radiance and impart it to the skin. One rare, immutable ingredient can transmit this undeniable beauty: gold. A noble metal, its warm, flattering lustre withstands the passage of time, remaining, persisting. It bestows its radiance in glowing waves.
La Prairie captures the radiant glow of youth with Pure Gold Radiance Eye Cream, infused with the Pure Gold Diffusion System. The eye area is immediately more luminous, deeply hydrated and appears redefined over time.
HOW TO USE?
Apply morning and evening after cleansing, toning and application of Pure Gold Concentrate. Dot along under eye area and up toward temples, continuing the gesture above the eyebrow towards the bridge of the nose and finishing by dotting under the eyebrow line. Massage in to skin with a gentle press-and-roll motion until completely absorbed. Follow by Pure Gold Radiance Cream, the last step of the Pure Gold Ritual.
ABOUT THE BRAND
La Prairie was born on the shores of Lac Leman where a pioneering doctor discovered the key to timeless beauty. His revolutionary ideas transformed the way we age and his methods became closely-guarded secrets whispered in rarefied circles around the world. La Prairie has become a symbol of excellence, a name inextricably linked with timelessness. Made from natural riches sought deep in the ocean, precious minerals from the Earth's core, flora indigenous only to the mountains of Switzerland and the latest technological processes, La Prairie is forever on the forefront of advanced science.
Benefits
- Enhances skin radiance instantly while building radiance over the long term
- Provides nutrients to the eye area and retexturises and smooth the skin
- Minimises the appearance of dark circles over time
- Reduces the appearance of puffiness
- Hydrates intensely
- Skin is revitalised, replenished, enriched, diffusing the grace of the golden hour