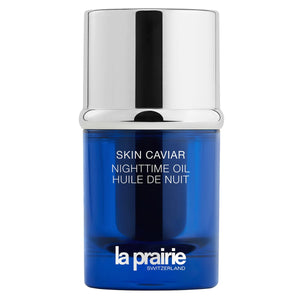 Skin Caviar Nighttime Oil 20ml
Indulge in the line-smoothing potency of caviar, tonight and beyond. La Prairie scientists explored the unchartered realms of the night and created a new Swiss caviar incarnation, Caviar Retinol. A unique blend of caviar-derived retinol and caviar lipids, Caviar Retinol harnesses the line-smoothing potential of caviar science, beyond lifting and firming.
A cobalt blue outer jar houses an opaque black inner vessel, encasing this delicate formulation. At once generous and silky, the formula soothes and cushions skin, for total indulgence.
Over time, lines and wrinkles appear reduced, skin looks firmed and moisture is sealed in, prolonging the elusive strength of caviar, beyond the night.
HOW TO USE?
Apply nightly after cleansing, toning and application of lotion, serum and eye area treatments. Using the dropper, dispense two to four drops into the palm of the hand and gently warm between the palms of both hands and glide onto fingers. Keeping your hand flat, start with a sliding motion between eyebrows, slide up to forehead. Continue towards the temples, slide across the cheekbones towards the top of nose and continue down to jawline. Slide fingertips of one hand around the contours of the mouth. Finish by sliding fingers along the jawline from chin to earlobes. Repeat entire pattern until absorbed. With your fingertips, perform the signature sealing gesture on the forehead, chin, cheeks and jawline: starting on the forehead and chin, repeat a press-and-roll motion three times. Follow the same pattern on the cheeks and jawline.
ABOUT THE BRAND
La Prairie was born on the shores of Lac Leman where a pioneering doctor discovered the key to timeless beauty. His revolutionary ideas transformed the way we age and his methods became closely-guarded secrets whispered in rarefied circles around the world. La Prairie has become a symbol of excellence, a name inextricably linked with timelessness. Made from natural riches sought deep in the ocean, precious minerals from the Earth's core, flora indigenous only to the mountains of Switzerland and the latest technological processes, La Prairie is forever on the forefront of advanced science.
Benefits
- Uncreases the appearance of fine lines and wrinkles. - Smooths skin visibly. - Enhances the appearance of firmness and elasticity. - Seals in moisture and actives of the preceding ritual. - Strengthens skin's own barrier function, helping to prevent water loss - Hydrates skin and leaves it appearing plumped.