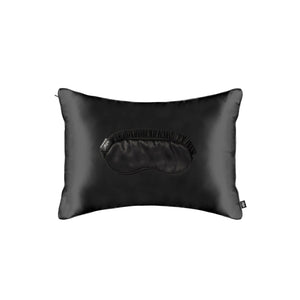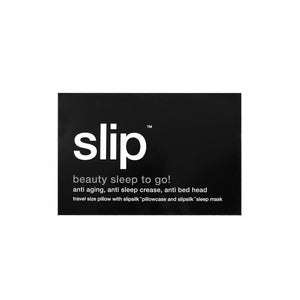 You won't want to venture anywhere without it!
Whether you're on a long-haul flight or treating yourself to some much needed beauty sleep on the go - this luxurious travel pillow, slipsilk™ travel pillowcase and matching slipsilk™ sleep mask set will have you dreaming in no time.
HOW TO USE?
HOW TO USE?
SLIP™ pure silk pillowcase. Use pH neutral liquid detergent, machine wash delicate 30°C (86°F) (delicates wash bag); hand wash 30°C (86°F); dry clean no trichloroethylene. Iron on low heat steam or dry. Do not bleach, do not tumble dry. Traditionally, silk is hand wash and dry clean only. Ours are of the highest quality so they are machine washable, but they are still silk and need as much care as we can give them. ALWAYS use a ph neutral liquid detergent and/or fabric softener. Silk is a natural fibre and washing in a solution that's too acidic or alkaline can cause the silk to harden in a single wash. If you can't find a detergent that specifies ph level then just go for one that specifies silk. Do not use bleach products. Another important factor is water temperature. Even just slightly above 30°C or 85°F can change silk dramatically. The safest method if your machine doesn't specify exact heat settings is either cold or just one level above cold. A delicates bag is optional, depending on your washing machine and whether or not it tends to grab items and tear them. If you wish to maximise the life of your pillowcase, hand washing is the ultimate method. The gentler you wash your slip pillow case, the longer it will keep its sheen. The shinier it is, the better it will 'slip', which is one of the benefits to its health and beauty qualities. The same goes for drying your pillowcase, do not place in tumble dryer. In other words, the better you care for your slip pillow case, the better it will care for you.
ABOUT THE BRAND
ABOUT THE BRAND
Slip® pure silk products are made using slipsilk™. Specially-commissioned (which means you won't find it anywhere else!) and made to our exacting standards, developed and refined for over ten years to provide the ultimate combination of shine, thickness, softness and durability. Slipsilk™ has been tested by an independent third-party lab and shown to absorb significantly less face cream and create 43% less friction, on average, versus cotton pillowcases. (Compared to widely available cotton pillowcases with a 220-360 thread count).