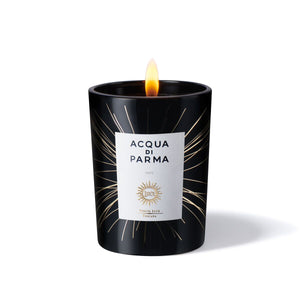 Product Highlights
Notes : Ozonic freshness, Lavandin, Red grape, Grape leaves, Sandalwood, Cedarwood
Inspired by a magical place where life, heritage, and culture define a territory of unparalleled value, the Acqua di Parma meets Tenuta Luce candle is an expression of excellent Italian craftsmanship born from the sun, a value profoundly shared by the two storied Italian names. Diffusing vibrant, energetic, and full-bodied woody aromatic notes, the candle is set in a shiny black lacquered glass jar adorned with radiant golden rays as lively as the intense sun rays illuminating the vineyards.
HOW TO USE?
IMPORTANT – PRECAUTIONS FOR USE: To ensure the best experience from your scented candle, Acqua di Parma recommends: • Do not burn your candle for more than 1,5 hours at a time. This will prevent the flame from becoming too high, which creates smoke and could stain the sides of the glass. • Use a proper snuffer to extinguish the flame. • Allow the candle to solidify before relighting it. • Regularly cut the wicks with a wick trimmer (ideal length 5 mm) so that the wicks do not stick to the wax and to prevent the candle from emitting smoke.
ABOUT THE BRAND
Founded in 1916, Acqua di Parma was born out of a vision to share the yellow gift of Italian Sun, Soul and Style with the world. Products are lovingly made by traditional craftsmen, where imperfection is cherished. By celebrating simplicity and generosity, it is all about Italian lightness at its heart.