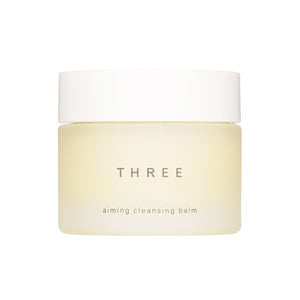 "It removes accumulated unnecessary substances and brings you soft and clear skin."
Balm-typed cleansing oil soft to the point of sensualizing.
The balm, made from exquisite blending of selected oils, butter and wax all derived from plant, will melt on the skin at skin temperature, tenderly massaging the skin and firmly catch your makeup, as well as old keratin and pore clogs to make your skin clear.
It will emulsify quickly with water and bring supple texture and transparency to your skin.
HOW TO USE?
HOW TO USE?
Use a spatula to take an appropriate amount (as tiny as a grain of muscat) in your dry clean hand. Warm the balm lightly in your hand and place it in six places: neck, chin, cheeks, nose, forehead (Figure A). When the balm starts to melt at body temperature, massage from the center of your face outward in a circular pattern, in order of where you placed it. (Figure B). When the balm becomes lightly fluffy to the touch, rinse with water or lukewarm water.
ABOUT THE BRAND
ABOUT THE BRAND
At THREE, we believe true beauty lies in living with a positive, open attitude, respecting both the precious blessings of the natural world and oneself as a part of nature.

THREE HOLISTIC CARE evokes the gifts from plants that exceed human senses such as essential oils to restore the natural power of the body that may be weakened by environmental factors of the modern society. We consider mind, body and skin together as a whole, and bring you the feeling that reaches the "instinct" of beauty.
INGREDIENTS
INGREDIENTS
<Essential oil>
Rose oil, Fennel oil, Geranium oil, Lavender oil, Orange peel oil, Wintergreen oil, Rosemary oil
<Plant oil and fat>
Tea seed oil, Jojoba oil, Pomegranate seed oil, Olive oil, Tiger nut oil, Shea butter, Mango butter, Passion fruit oil, Rice bran wax, Carnauba wax, Bees wax
<Extract>
Caper fruit extract