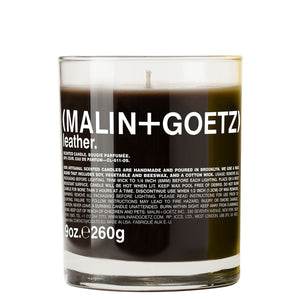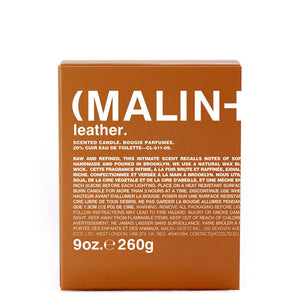 A modern scent that nods to the tradition of fragrancing artisanal leather goods.
Nodding to the centuries old practice of fragrancing artisanal leather goods with custom perfumes, leather is a modern update that marries rawness and refinement. immediately recognizable and universally appealing, leather is a texture and scent that inevitably evokes feelings of nostalgia. in our formula, muted florals mirror the elegance of smooth leather while rustic wood notes call to mind the softness of a well-worn vintage find. intimately shaping itself around the wearer like a second skin, leather is a fragrance that only gets better with time.
Hand poured in brooklyn. natural wax blend has a clean, slow burn that lasts 60 hours.
NOTES:
top. lotus flower, eucalyptus + clove.
middle. muguet, iris wood, orchid + green violet.
base. leather, cedarwood, sandalwood, suede amber + cashmere musk.
Vegan. cruelty-free.
Vegetable wax blend, cotton wick.
ABOUT THE BRAND
MALIN+GOETZ
uncomplicate your regimen.
founded in new york city in 2004, MALIN+GOETZ combines trusted natural ingredients with advanced technology to create head-to-toe skincare, fragrance and candles for your modern lifestyle. complex, yet easy-to-use, our products are made for all genders and all skin types, even the most sensitive.