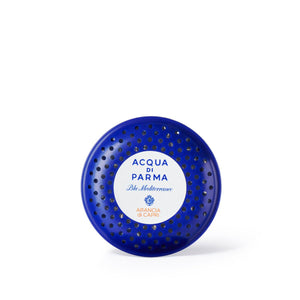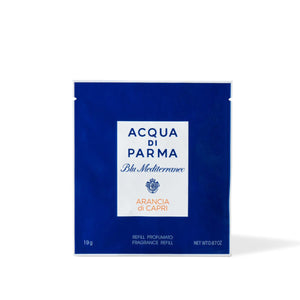 Arancia di Capri Fragrance Refill
Product Highlights
Olfactive family: Citrus musk
Tasting Notes: Sweet orange, italian mandarin, italian lemon, petit grain, cardamom, caramel, musk.
Dive into the warmth and beauty of Capri with the relaxing notes of its signature orange evoking the magical colours and atmosphere of the island. A relaxing fragrance distinguished by its energetic and luminous notes of orange, mandarin and lemon. At the heart, petit grain notes meet the intensity of cardamom and the base is rounded with light caramel accents and sensual musk notes.
HOW TO USE?
The fragrance refills are compatible with the Car Diffuser from our Airound collection. Once the sachet is opened, the fragrance refill can last up to 3 months if not used in any devices.
ABOUT THE BRAND
Founded in 1916, Acqua di Parma was born out of a vision to share the yellow gift of Italian Sun, Soul and Style with the world. Products are lovingly made by traditional craftsmen, where imperfection is cherished. By celebrating simplicity and generosity, it is all about Italian lightness at its heart.