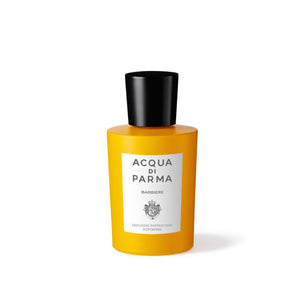 Barbiere After Shave Emulsion
Test this fast-absorbing lightweight After Shave Emulsion that combats razor burn. Formulated with hyaluronic acid to help restore the skin, the emulsion also hydrates and conditions with its blend of vegetal oils.
ABOUT THE BRAND
Founded in 1916, Acqua di Parma was born out of a vision to share the yellow gift of Italian Sun, Soul and Style with the world. Products are lovingly made by traditional craftsmen, where imperfection is cherished. By celebrating simplicity and generosity, it is all about Italian lightness at its heart.