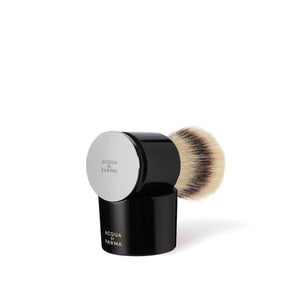 Barbiere Badger Shaving Brush Black
A unique object mixing quality, design and functionality. With a diameter of 24mm, the brush is an essential accessory for a perfect shave. Its soft bristles help to create a rich, soft and compact foam for an easy shave. Handle and stand of the Shaving Brush design take inspiration from the Colonia bottle. The product is masterfully handmade in Italy.
ABOUT THE BRAND
Founded in 1916, Acqua di Parma was born out of a vision to share the yellow gift of Italian Sun, Soul and Style with the world. Products are lovingly made by traditional craftsmen, where imperfection is cherished. By celebrating simplicity and generosity, it is all about Italian lightness at its heart.