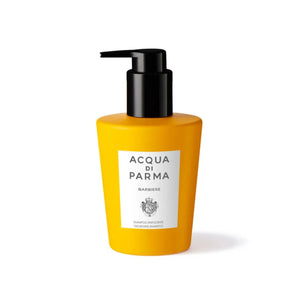 Barbiere Thickening Shampoo
An enriching formula that gently removes everyday dirt, impurities and styling products from the scalp and the hair, without creating dryness on the scalp. The shampoo protects the hair from pollution, while helping to strengthen, thicken and look full of volume. Our barbers advise to use sparingly in small amounts and apply thoroughly onto the scalp to ensure the formula can take effect in the hair, rinse off thoroughly after use. Recommended for all hair and skin types, including sensitive scalps.
ABOUT THE BRAND
Founded in 1916, Acqua di Parma was born out of a vision to share the yellow gift of Italian Sun, Soul and Style with the world. Products are lovingly made by traditional craftsmen, where imperfection is cherished. By celebrating simplicity and generosity, it is all about Italian lightness at its heart.