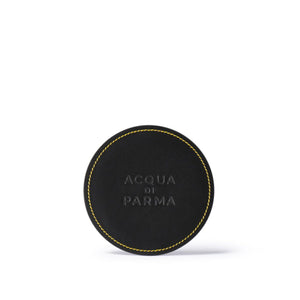 Leather Candle Base And Lid
An elegant accessory in hand-crafted leather to be used as you wish as a base or cover for 500g candles.
An elegant accessory, created with care, by Italian craftsmen. Made of soft leather, the candle base/ lid combines elegance and functionality. It can be used either as a base on which to display the candle, or a cover, with which to protect the wax and preserve its scent when the candle is not in use.
ABOUT THE BRAND
Founded in 1916, Acqua di Parma was born out of a vision to share the yellow gift of Italian Sun, Soul and Style with the world. Products are lovingly made by traditional craftsmen, where imperfection is cherished. By celebrating simplicity and generosity, it is all about Italian lightness at its heart.