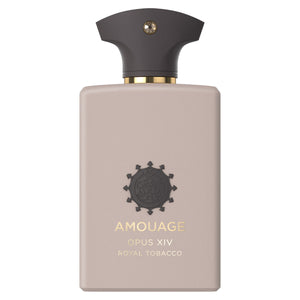 One of knowledge and aesthetic pleasure, Opus XIV - Royal Tobacco is a fragrant journey along the Tropic of Cancer from Oman to Cuba, connecting Royal Frankincense to Regal Tobacco. The perfume references the tradition of 'El Lector', whose role was to read to cigarmakers in Cuban factories, captivating them with riveting novels like Les Misérables by Victor Hugo and works by Honoré de Balzac, Stendhal, Edgar Allan Poe or Herman Melville until it became an honored ritual as synonymous with the rolling floor as the scent of tobacco.
Top Notes: Frankincense Oil, Elemi, Cardamom, Anise, Basil, Bergamot
Heart Notes: Tobacco Absolute, Liquorice Root, Lavender, Prunol, Fenugreek, Orange Blossom, Osmanthus, Rose
Base Notes: Frankincense Resinoid, Peru Balsam, Benzoin, Labdanum, Myrrh, Birch Tar, Tonka Bean, Vanilla Madagascar, Vetiver, Guaiac Wood, Oud Assam, Musks
ABOUT THE BRAND
Amouage is an international luxury fragrance house renowned for creating some of the most finely crafted perfumes in the world. Founded in the Sultanate of Oman in 1983 to be 'The Gift of Kings', the House has redefined the Arabian art of perfumery and garnered a global reputation for bringing innovative modernity and true artistry to all its creations. Masterfully paying tribute to its heritage, Amouage is a unique fusion of East meets West that defines avant-garde opulence. It expresses the contemporary majesty of Oman - a historic trading center for incense and myrrh - around the globe, with arresting and alluring collections that speak to a sophisticated, confident and well-traveled discerning clientele who seek something compellingly precious, extraordinary and personal, every day.