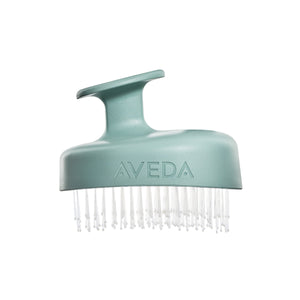 The massaging hair and scalp brush helps to gently, yet effectively lift impurities from the scalp and increase scalp micro-circulation, all while enhancing your sensorial scalp care experience.
The design: The thin, long, bristles have a flexible reach to the scalp through wet hair. Bi-level filaments allow the longer filaments to touch the scalp, while the shorter filaments reach the hair. Soft, rounded ball tips are gentle for the scalp while providing deep exfoliation. The double concave design has a spherical topography, allowing the massager to adapt to the head's shape. The curved handle is ergonomically designed to comfortably hold in your hand.
Suitable for:
All scalp types: Normal to oil, normal to dry.
All hair types: Fine, medium, thick
HOW TO USE?
Start at the front line down to the nape in 3 gentle circular movements, covering your entire head . Reverse the technique and work from the nape to the front hair line using the same gentle circular motions.
Use daily or as often as desired.
Your scalp solutions regimen
Step 1: Exfoliate
1-2x per week: exfoliating scalp treatment
Step 2: Cleanse
Daily: balancing shampoo
Step 3: Condition
Daily: replenishing conditioner
Step 4: Protect & Refresh
Daily & anytime: refreshing protective mist
Step 5: Treat
Nightly: overnight scalp renewal serum
Stylist tip:
Move in small circular motions at the scalp. Make 2-3 oscillations before releasing and repeating until entire scalp is covered. This tool only works as a detangler on less textured hair. Rinse brush after using and rest on handle to air dry.
ABOUT THE BRAND
Founded in 1978 in Minneapolis, MN, Aveda creates plant-based hair, skin and body products for beauty professionals and consumers. Aveda innovates in botanical technologies, combining the principles of modern science and Ayurveda, the ancient healing art of India, to develop performance-driven hair, skin and body products—made with pure flower and plant essences—that are created with respect for the Earth. Aveda is born cruelty free and has never used parabens, mineral oil, petrolatum, paraffin, formaldehyde, SLSand SLES, oxybensone, benzene , retinyl plamitate, microcrystalline wax, polyethelene beads, tricolsan, triclocarban, lanolin, carmine, talc or synthetic fragrance.
INGREDIENTS
Brush made with a minimum of 50% post-consumer recyled polypropylene, excluding bristles. Carton made with 75% recycled, responsibly sourced fiber. (FPO copy, pending substantiation)