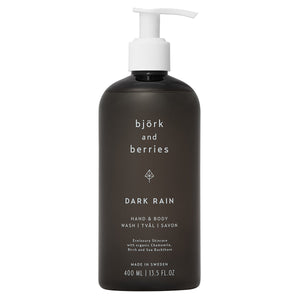 Dark Rain Hand & Body Wash
A rich and hydrating natural hand and body wash with an earthy and wet scent inspired by the first rainy autumn day. Enriched with our organic complex with nourishing organic sea buckthorn, purifying organic birch and soothing organic chamomile.
TOP: FROZEN TANGERINE, GINGER, BERGAMOT
HEART: PETITGRAIN, GERANIUM, LILAC
BASE: AMBER, CEDARWOOD, VETYVER
Dark Rain is an earthy and wet scent of wood, tangerine, ginger and amber inspired by that first rainy autumn day. The ground is still warm from bright summer days and as the rain hits the ground, a scent of minerals, water and warm asphalt arises.
The energetic scent of frozen tangerine, ginger and bergamot evokes notions of vibrant cities in changing seasons. Like heavy dark skies, petitgrain and soft lilacs layer atop the comforting warmth of cedarwood and green vetiver. In the base, a melancholic sensation of deep amber lingers like rain against warm skin.
ABOUT THE BRAND
Björk and Berries is owned by our CEO Isabelle Lewenhaupt and her family. The family's farm, Fäviken, in the North of Sweden is a special place for Björk and Berries. Here, we have our own mountain garden where we grow a few select ingredients and experiment with plants and herbs in the harsh seasons of the north. The beauty of the deep forests and mountains is a daily inspiration. We continuously work on our mission, to preserve and share the magic of Swedish nature and beauty traditions with the world.