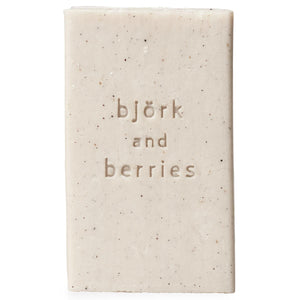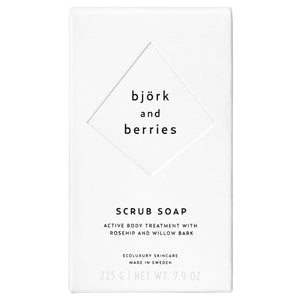 A rich and luxurious plant-based bath soap with rosehip and willow bark. It takes an exfoliating yet hydrating approach to dry and dead skin cells, while cleansing the body. A combination of exfoliating ingredients together with nourishing oils leaves the skin hydrated and radiant with a renewed and softened texture.
TOP: GRAPEFRUIT, RED CURRANT, LEMON
HEART: CUCUMBER, GERANIUM
BASE: VETIVER, CEDARWOOD
A natural scent with reviving and uplifting green and clean notes.
HOW TO USE?
An effective treatment with a double exfoliating effect, both mechanical (pumice) as well as chemical (willow bark). In the shower or bath gently massage the skin in circular motions. Not suitable for face.
ABOUT THE BRAND
Björk and Berries is owned by our CEO Isabelle Lewenhaupt and her family. The family's farm, Fäviken, in the North of Sweden is a special place for Björk and Berries. Here, we have our own mountain garden where we grow a few select ingredients and experiment with plants and herbs in the harsh seasons of the north. The beauty of the deep forests and mountains is a daily inspiration. We continuously work on our mission, to preserve and share the magic of Swedish nature and beauty traditions with the world.