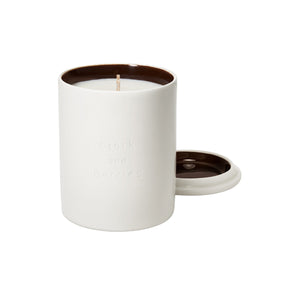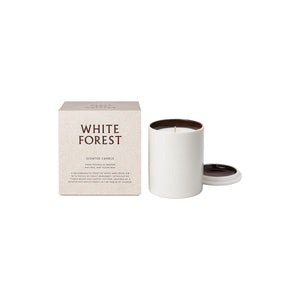 White Forest Scented Candle
White Forest is a melodramatic scent of wood and fresh air with notes of sweet bergamot, intoxicating tonka beans and earthy vetiver, inspired by a mysterious birch forest in the north of Sweden. This candle is made of natural wax and hand poured in Sweden.
TOP: BERGAMOT, BLACK CURRANT, LEMON
HEART: VIOLET, LILY OF THE VALLEY
BASE: VETIVER, TONKA BEAN, CEDARWOOD
White Forest is an homage to the ever-present inspiration – the deep Swedish woods. Aromatic and woody, this fragrance translates both the serene presence and the mysterious aura that epitomises the heart of Nordic nature. Its reviving yet indefinable character awakens your senses and brings you straight to a long- lost forest of white birch and green pine.
The composition is like a breath of fresh forest air. It captures the best of what nature has to offer, starting with the fruity and bittersweet nuances of black currant and lemon, carefully combined with wondrous violet and lily of the valley. Together with earthy vetiver and the intoxicating powdery-sweetness of Tonka beans, this fragrance carries the soul of the Swedish woods.
ABOUT THE BRAND
Björk and Berries is owned by our CEO Isabelle Lewenhaupt and her family. The family's farm, Fäviken, in the North of Sweden is a special place for Björk and Berries. Here, we have our own mountain garden where we grow a few select ingredients and experiment with plants and herbs in the harsh seasons of the north. The beauty of the deep forests and mountains is a daily inspiration. We continuously work on our mission, to preserve and share the magic of Swedish nature and beauty traditions with the world.