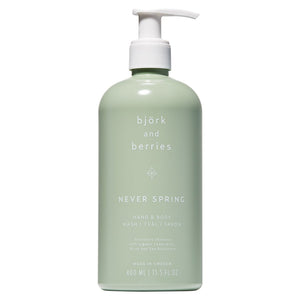 Never Spring Hand & Body Wash
Product Highlights
A rich and hydrating natural hand and body wash enriched with Björk and Berries organic complex with a fresh scent of spring.
Never Spring is inspired by a longing for spring that never seems to arrive. A green and crisp scent with notes of lemon and cedar wood. Suddenly the sun becomes warm enough to awaken blossoming trees and the days grow longer, and usually toward the evening the sky takes on a deep blue almost warm tone. Never Spring captures our long wait for this awakening season from the feeling when you see the first signs of spring until nature turns into intensive bloom. The scent opens up with bittersweet black currant, gentle and ripe citruses in pleasing contrast with cold, green notes like a crisp morning in spring. It is a woody scent with base notes of cedar wood and soft musk combined with deep amber.
ABOUT THE BRAND
ABOUT THE BRAND
Björk and Berries is owned by our CEO Isabelle Lewenhaupt and her family. The family's farm, Fäviken, in the North of Sweden is a special place for Björk and Berries. Here, we have our own mountain garden where we grow a few select ingredients and experiment with plants and herbs in the harsh seasons of the north. The beauty of the deep forests and mountains is a daily inspiration. We continuously work on our mission, to preserve and share the magic of Swedish nature and beauty traditions with the world.