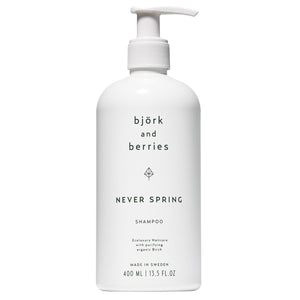 Product Highlights
This natural shampoo gently cleanses and strengthens the hair with purifying organic birch.
A gentle cleansing and nourishing shampoo for normal hair, free from sulphates and enriched with vitamins from organic birch extract.
ABOUT THE BRAND
ABOUT THE BRAND
Björk and Berries is owned by our CEO Isabelle Lewenhaupt and her family. The family's farm, Fäviken, in the North of Sweden is a special place for Björk and Berries. Here, we have our own mountain garden where we grow a few select ingredients and experiment with plants and herbs in the harsh seasons of the north. The beauty of the deep forests and mountains is a daily inspiration. We continuously work on our mission, to preserve and share the magic of Swedish nature and beauty traditions with the world.