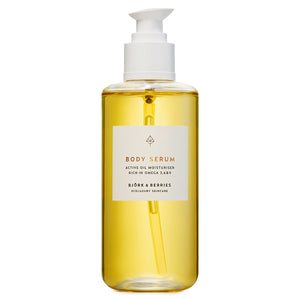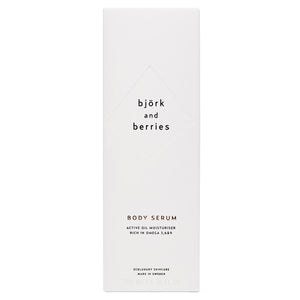 A concentrated oil serum enriched with a blend of borage seed oil, sunflower seed oil, organic birch leaf extract and jojoba seed oil, to deeply moisturise and help revitalise the skin.
Rich in omega 3, 6 and 9 as well as the natural antioxidant vitamin E, it nourishes and protects the skin from dehydration. It is easily absorbed and gives instant moisture, keeping the skin glowing throughout the day.
ABOUT THE BRAND
Björk and Berries is owned by our CEO Isabelle Lewenhaupt and her family. The family's farm, Fäviken, in the North of Sweden is a special place for Björk and Berries. Here, we have our own mountain garden where we grow a few select ingredients and experiment with plants and herbs in the harsh seasons of the north. The beauty of the deep forests and mountains is a daily inspiration. We continuously work on our mission, to preserve and share the magic of Swedish nature and beauty traditions with the world.