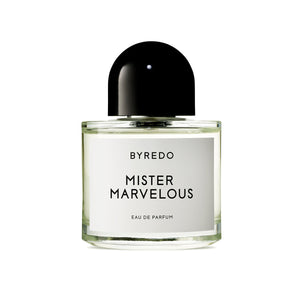 "Mister Marvelous was always a project intended to celebrate great character, resilience and creativity."
— Ben Gorham, Founder & Creative Director, Byredo
A cult favourite returns: introducing the limited-edition reissue of our original Mister Marvelous Eau de Parfum. The scent pays homage to a contemporary man – clean cut, self-assured, exquisite and astonishing. Rewriting the rules of what it means to be Marvelous in 2022, the scent reflects the multifaceted, layered complexity of masculinity in today's landscape, and the many roles the modern man navigates with confidence and ease in his daily life.
Mister Marvelous turns the classic men's cologne on its head with a modern, citrus-led twist. Brimming with charisma and exuding the scent of a confident character, the sweet opening of mandarin leaves and neroli flower leads to a fresh heart of bamboo and green lavender. Like the ideal gentleman, full of gestures that delight, spicy notes of black amber and white cedarwood provide a final dash of intrigue. A fragrance that surprises and delights as it unfurls, much like the experience of knowing a Marvelous man.
ABOUT THE BRAND
BYREDO is a modern European luxury house founded in 2006 by Ben Gorham. In contrast to Scandinavian esthetics, BYREDO carries clear ethnic influences from Ben's Indian background with strong ties to creativity, art and lifestyle and has established a unique position in the market.