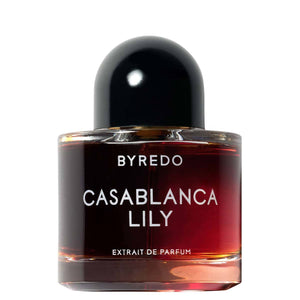 Distilled into a pure essence, each Night Veils fragrance taps noble raw materials chosen with meticulous care. With its high concentration, this new trio reinvents a new perfume ritual.
Casablanca Lily was inspired by the thriving city that rises on the shores of the Atlantic Ocean. From its Berber roots to its colonial heritage, Casablanca's modern identity is a mix of diverse cultures, a place in constant change between tradition and modernity. Given time, the city unravels itself, revealing the most amazing corners, a vibrant kaleidoscope of Moroccan life found nowhere else. The fragrance surrounds you like the elegance of the city that inspired it: abundance, richness and grandeur combined.
HOW TO USE?
ABOUT THE BRAND
BYREDO is a modern European luxury house founded in 2006 by Ben Gorham. In contrast to Scandinavian esthetics, BYREDO carries clear ethnic influences from Ben's Indian background with strong ties to creativity, art and lifestyle and has established a unique position in the market.