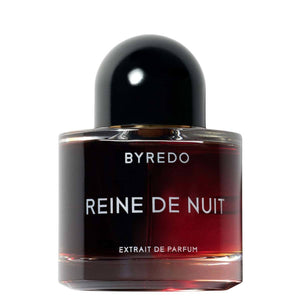 Distilled into a pure essence, each Night Veils fragrance taps noble raw materials chosen with meticulous care. With its high concentration, this new trio reinvents a new perfume ritual.
Reine de Nuit is a testament to how empowering a rich floral perfume can be in the twilight hours. It revives the rich tradition of oriental perfumes and celebrates the intrinsic seductiveness of the rose. Reine de Nuit has a sensual and spellbinding scent.
HOW TO USE?
ABOUT THE BRAND
BYREDO is a modern European luxury house founded in 2006 by Ben Gorham. In contrast to Scandinavian esthetics, BYREDO carries clear ethnic influences from Ben's Indian background with strong ties to creativity, art and lifestyle and has established a unique position in the market.