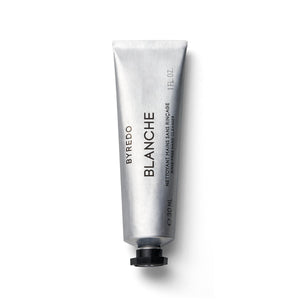 The Rinse Free Hand Cleanser delivers instant freshness and comfort, leaving hands supple and scented with Byredo's signature fragrances. Its 59% alcohol formulation combines gentle cleansing properties that bring the sensation of hydration.
Presented in an elegant paint-inspired metal tube. 30ml. Vegan. 97% natural.
Blanche
A longstanding icon in the Byredo catalogue, Blanche explores the smell of texture and skin; bodies slipping beneath fresh sheets; laundry baskets filled to the brim; a punch of detergent. An aldehyde hit softens into delicate rose; through sandalwood and musk, the allure and intimacy of human touch.
ABOUT THE BRAND
BYREDO is a modern European luxury house founded in 2006 by Ben Gorham. In contrast to Scandinavian esthetics, BYREDO carries clear ethnic influences from Ben's Indian background with strong ties to creativity, art and lifestyle and has established a unique position in the market.