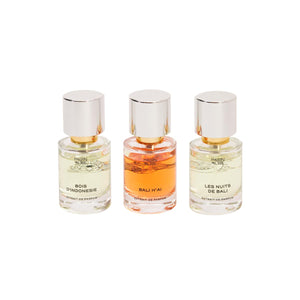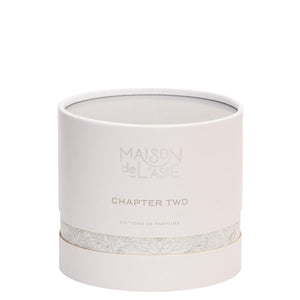 Chapter Two Collector Box
The Collector's Set features the key three fragrances of each unique chapter.
A perfect gift for loved ones or yourself. The perfectly sized bottles allow you to take your favourite scent with you whenever you leave the house, whether for work or a trip abroad.
This Chapter represents the second instalment in the Maison de L'Asie story, with three evocative perfumes that speak of reveries in the magical island of Bali, Indonesia.
Featuring:
BALI H'AI
BOIS D'INDONESIE
LES NUITS DE BALI
Extrait de Parfum
ABOUT THE BRAND
Maison de L'Asie is a luxury fragrance house born from Asian inspirations. Fusing the historic art of classic French perfumery with Asian overtures, we craft evocative olfactory odysseys that are modern, visionary and rare. " Perfume is not a fixed art. It develops along with cultural and social changes and is marked by the epoch in which it exists." The continuous goal of niche perfumery is to know how to go beyond legendary references and tell new olfactory stories. Together, they cherish the same dream : to reinvent the classic forms of modern perfumery and to perfect them yet further. The compositions of Maison de L'Asie do not submit to the merely fashionable – we strive to make timeless olfactory stories that encapsulates the essence, memories and the emotions of this diverse and fascinating continent. Founded in Singapore, we have partnered with fifth-generation perfumers from Grasse, France to create exceptional perfumes that showcase the finest materials sourced from around the globe. All our fragrances are crafted by artisan perfumers made with 35-40% concentrate of the top ingredients sourced globally from world-renowned suppliers and labs.