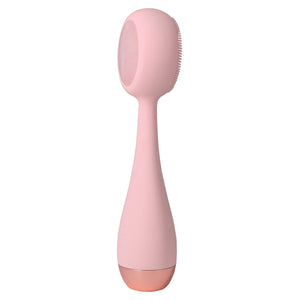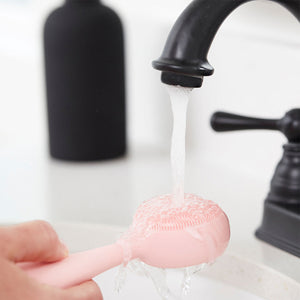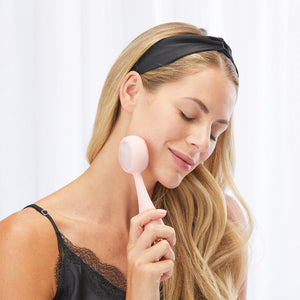 The PMD Clean Pro RQ cleanses, firms, and tones the skin. ActiveWarmth™ heat therapy and the rose quartz stone increase skincare absorption, and reduce tension & inflammation.
HOW TO USE?
- Step 1 :Rinse face with warm water and gently rub in cleanser -Step 2 :Rinse PMD Clean Pro RQ under water and power on device, we recommend modes 1 and 2 for optimum cleansing results -Step 3:Move brush head in circular motions, cleansing entire face, it is safe to spend more time in areas that may be of personal concern -Step 4 :Rinse face and PMD Clean Pro RQ of any excess cleanser then pat dry -Step 5 :Apply skincare products and use back side of the PMD Clean Pro RQ on mode 3 or 4 to gently massage, by powering on ActiveWarmth™ on the PMD Clean Pro RQ, serums will be more effective and absorb deeper into the skin -Step 6 :We recommend using mode 3 or 4 for massaging, by operating at a perfect frequency, the PMD Clean Pro RQ lifts, firms and tones the skin, through the pulsations of the device, blood flow is stimulated and collagen production is increased
ABOUT THE BRAND
PMD Beauty is a premier beauty company offering smart beauty tools and skincare products. With the help of 1000's of men and women across the globe, we launched PMD Beauty without investor funding or traditional big budget marketing. We began our business with YOU and your skincare goals in mind. As time passes, we continue to strive to provide high quality products that enable you to feel your best, and allow you to go out into the world and fulfill your dreams.
Benefits
-Deep daily cleansing - Minimize the appearance of blackheads -Reduce oil congestion -Lift, firm & tone the skin -Reduces inflammation and tension -Deeper absorption of skincare products