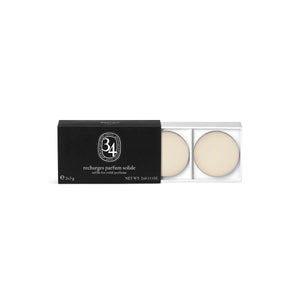 With this duo of 34 Boulevard Saint Germain solid perfume refills, you'll be able to replenish your case twice.
A mad idea: capture the scent of the shop at 34 boulevard Saint-Germain and make it into a perfume. The olfactory soul of the boutique is there: a kaleidoscope of scents bringing together all of diptyque's candles and fragrances. With the advent of advanced technology, diptyque has become a thief of scents.
ABOUT THE BRAND
Diptyque is a contemporary, emblematic, pioneering PARFUMERIE Maison; a discreet precursor of authentic luxury and the art of living through the senses, where fragrance and art are integral to everything.
PERFUMER & ARTIST in Paris since 1961, Diptyque is constantly innovating, offering totally surprising olfactory collections, facecare and body care, scented candles, clever decorative fragrance diffusers that combine tradition and cutting-edge technology, as well as distinctively original interior decorating collections that add extra soul and charm to any home.
In its ongoing quest for quality and excellence, Diptyque continues to uphold a free-spirited, artistic approach, hovering between tradition and avant-garde, to create products that offer daily imaginary journeys of the mind and the senses.
It's almost 60 years of free-spirited, artistic Parfumerie, rooted in joyful creativity and enchanting, eclectic encounters.