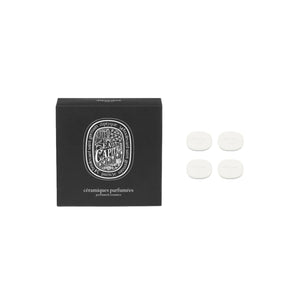 The perfumed ceramic is slipped into the compartment behind the brooch and diffuses the chypre and floral fragrance of Eau Capitale.
Purchase comes with four Eau Capitale perfumed ceramics.
Brooch sold separately.
HOW TO USE?
HOW TO USE?
• RECOMMENDATIONS FOR USE • Remove the ceramic disk from its resealable bag. Open the compartment behind the brooch. Place the ceramic disk inside and close it tightly. • MAINTENANCE • Use the cotton bag to transport the brooch. To preserve the olfactory qualities of the ceramic disk, put it back in its resealable bag after use and change it every month. WARNING: Do not re-scent the ceramic disk. Keep out of reach of children. Do not store the ceramic disks or place them near a flame or heat source. Do not place them directly on a fragile surface or fabric. Available with the following fragrances: Eau Capitale, Do Son, Eau Rose and Fleur de Peau.
ABOUT THE BRAND
ABOUT THE BRAND
Diptyque is a contemporary, emblematic, pioneering PARFUMERIE Maison; a discreet precursor of authentic luxury and the art of living through the senses, where fragrance and art are integral to everything.
PERFUMER & ARTIST in Paris since 1961, Diptyque is constantly innovating, offering totally surprising olfactory collections, facecare and body care, scented candles, clever decorative fragrance diffusers that combine tradition and cutting-edge technology, as well as distinctively original interior decorating collections that add extra soul and charm to any home.
In its ongoing quest for quality and excellence, Diptyque continues to uphold a free-spirited, artistic approach, hovering between tradition and avant-garde, to create products that offer daily imaginary journeys of the mind and the senses.
It's almost 60 years of free-spirited, artistic Parfumerie, rooted in joyful creativity and enchanting, eclectic encounters.