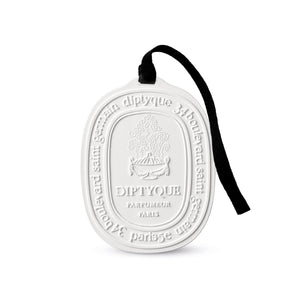 Fragrant and protective.
This white porcelain medallion, whose shape mirrors diptyque's emblematic oval, can be hung in a wardrobe or tucked inside a drawer. It perfumes these intimate spaces with warm, dense notes of cedarwood and brighter accords of lavender – scents known to be naturally moth repellent.
The ceramic with cedarwood for wool and delicate textiles is Ecocert certified. It can be re-scented when its fragrance begins to fade .
A natural detergent certified by Ecocert Greenlife according to the Ecocert standard available at http://detergents.ecocert.com.
ABOUT THE BRAND
Diptyque is a contemporary, emblematic, pioneering PARFUMERIE Maison; a discreet precursor of authentic luxury and the art of living through the senses, where fragrance and art are integral to everything.
PERFUMER & ARTIST in Paris since 1961, Diptyque is constantly innovating, offering totally surprising olfactory collections, facecare and body care, scented candles, clever decorative fragrance diffusers that combine tradition and cutting-edge technology, as well as distinctively original interior decorating collections that add extra soul and charm to any home.
In its ongoing quest for quality and excellence, Diptyque continues to uphold a free-spirited, artistic approach, hovering between tradition and avant-garde, to create products that offer daily imaginary journeys of the mind and the senses.
It's almost 60 years of free-spirited, artistic Parfumerie, rooted in joyful creativity and enchanting, eclectic encounters.