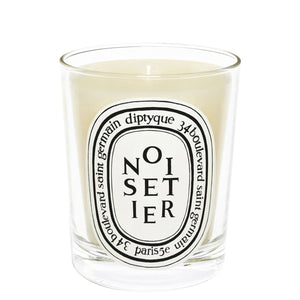 The hazelnut tree at the heart of a forest, the fruits still on the tree, its hazelnut shells nestled in their pericarp. Its fragrance has retained the freshness of green leaves and the delicately crunchy, praline notes of hazelnuts on the cusp of ripening.
Choose one candle, then pair it with another to discover their unexpected olfactory alchemy, which seems to reinvent each scent as it creates a third.
Hazelnut Tree and Vanilla duo: A delicious treat
Lightly roasted hazelnuts, fresh from the oven. Their still-warm praline accents have taken on the caramelized and slightly spicy sweetness of the vanilla pods.
HOW TO USE?
When using the candle for the first time, leave it to burn for 2 or 3 hours, until all the wax has become liquid on the surface.
Regularly cut the wick with the wick trimmer (ideal length 3-5 mm).
Be sure to centre the wick in the wax after each use for consistent consumption of the wax.
ABOUT THE BRAND
Diptyque is a contemporary, emblematic, pioneering PARFUMERIE Maison; a discreet precursor of authentic luxury and the art of living through the senses, where fragrance and art are integral to everything.
PERFUMER & ARTIST in Paris since 1961, Diptyque is constantly innovating, offering totally surprising olfactory collections, facecare and body care, scented candles, clever decorative fragrance diffusers that combine tradition and cutting-edge technology, as well as distinctively original interior decorating collections that add extra soul and charm to any home.
In its ongoing quest for quality and excellence, Diptyque continues to uphold a free-spirited, artistic approach, hovering between tradition and avant-garde, to create products that offer daily imaginary journeys of the mind and the senses.
It's almost 60 years of free-spirited, artistic Parfumerie, rooted in joyful creativity and enchanting, eclectic encounters.