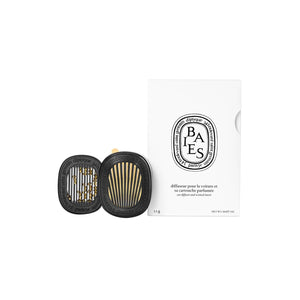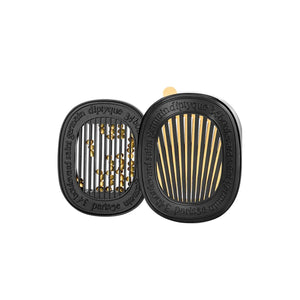 Elegant and sophisticated, the diptyque car diffuser uses an innovative system of cold diffusion.
Simply attach to your car's ventilation grill to diffuse the tart, exuberant scent of blackcurrant leaves, accented with rose blossoms.
HOW TO USE?
HOW TO USE?
The diffuser's adjustable metal grill allows you to control the intensity of fragrance in the car. Each insert lasts for up to three months after opening, as long as the container is properly closed after each use. When used continuously, each insert will last for 40 hours, with up to 80 cycles of scent diffusion (1 cycle is equivalent to an hour, alternating between 10 minutes of scent diffusion and 10 minutes' pause).
ABOUT THE BRAND
ABOUT THE BRAND
Diptyque is a contemporary, emblematic, pioneering PARFUMERIE Maison; a discreet precursor of authentic luxury and the art of living through the senses, where fragrance and art are integral to everything.
PERFUMER & ARTIST in Paris since 1961, Diptyque is constantly innovating, offering totally surprising olfactory collections, facecare and body care, scented candles, clever decorative fragrance diffusers that combine tradition and cutting-edge technology, as well as distinctively original interior decorating collections that add extra soul and charm to any home.
In its ongoing quest for quality and excellence, Diptyque continues to uphold a free-spirited, artistic approach, hovering between tradition and avant-garde, to create products that offer daily imaginary journeys of the mind and the senses.
It's almost 60 years of free-spirited, artistic Parfumerie, rooted in joyful creativity and enchanting, eclectic encounters.