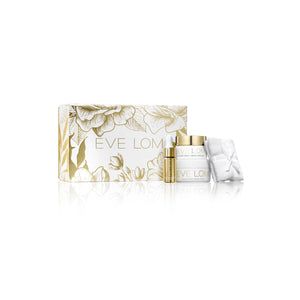 If you have promised your skin a New Year's resolution, this is the set to fulfill that promise with. Discover the ultimate three step ritual to reveal smooth, dewy, and glowing skin.
Our cult favourite 5-in-1 Cleanser Balm removes and melts away all traces of make up and dirt while toning, hydrating and exfoliating the skin with the extra fine Muslin Cleansing Cloth made from 100% cotton. This preps the skin to absorb our new gentle yet potent daily Radiance Repair Retinol Serum which illuminates, hydrates, firms and smooths skin. The final step is our sumptuous Moisture Cream which contains hyaluronic acid and protective antioxidants to nourish and instantly plump skin, delivering long lasting hydration for a healthy, radiant complexion.
Includes: EVE LOM Cleanser 50ml, EVE LOM Muslin Cleansing Cloth, EVE LOM Radiance Repair Retinol Serum 9.5ml, EVE LOM Moisture Cream 30ml.
HOW TO USE?
Cleanser:
Step 1:
Scoop up a small amount of Cleanser and warm it between your fingers. Then, massage it on to dry skin in a circular motion.
Step 2:
Wet the Muslin Cleansing Cloth in hot water, wring out the excess water and place the warm cloth on your face. This step opens the pores. After 3-5 seconds use the cloth to wipe off all the product, focusing on any areas of concern (such as dryness, congestion, or heavy make up).
Step 3:
Rinse cloth and repeat a second and third time. Complete the ritual by running cold water onto the cloth, wringing out excess water and using it as a cold compress to close the pores back up again.
When to Use:
Use in the morning and evening as the first step in your cleansing ritual. Follow with the EVE LOM Radiance Repair Retinol Serum and Moisture Cream for a complete skincare ritual.
Radiance Repair Retinol Serum:
Apply 2 to 3 drops to your face and neck, pressing formula into skin.
When to Use:
Use in the morning and evening, after your cleansing ritual. Follow with the EVE LOM Moisture Cream to hydrate skin.
Moisture Cream:
Apply daily to face as the last step in your skin care routine.
When to Use:
Use in the morning and evening, after your cleansing ritual and serum application.
ABOUT THE BRAND
With generations of skincare experience coupled with sophisticated science, EVE LOM presents a carefully curated range of high-performance natural solutions that hydrate and nourish skin to deliver radiance, rejuvenation, and renewal from the inside out.
Our founder, Eve Lom, first discovered the exquisite power of nature-as-remedy as a child. Sent out into the garden to forage for powerful botanicals, she quickly encountered the skin-healing properties of Chamomile, Clove, Hops, and Eucalyptus – key ingredients she would use, years later, to develop her signature blend of aromatic oils that fuel her iconic, original Cleanser balm.
With over 35 years of innovation, built on a rich British spa tradition,
EVE LOM continues to pioneer refined natural treatments that reveal healthy, radiant skin.