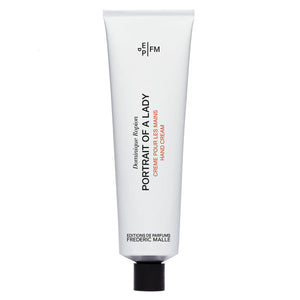 Portrait of a Lady Hand Cream
Product Highlights
Notes: Turkish Rose, Patchouli, Sandalwood, Incense
Frédéric Malle's Portrait of a Lady hand cream is inspired by the rich and invigorating perfume of the same name, translating its fragrance into a nourishing formula. After it quickly absorbs into the hands, there's a lingering scent of rose, amber, and patchouli that will pleasantly follow you as you go about your day.
HOW TO USE?
Massage gently onto clean hands, concentrating on the cuticles.
ABOUT THE BRAND
Frederic Malle founded Editions de Parfums as a publishing house for renowned perfumers and their most innovative work. As a perfume expert, Mr. Malle handpicks perfumers and collaborates with them individually to create works of art that represent the best of each olfactive category. Together they continue to raise the standards of contemporary perfumery.