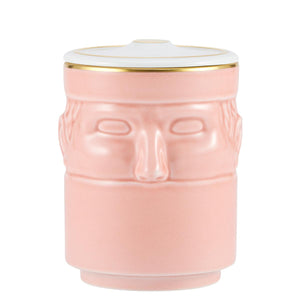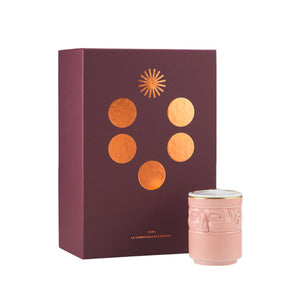 The candleholder with a set of 190-g Orange Renaissance scented candles with cover.
Symbol of friendship.
No stranger to challenges and adventures, The Companion is a faithful friend with whom to live stories which will stand the test of time.
A porcelain candle holder depicting a expressive face which is proud to be able to bring harmony to people and environments. This is the friend you would always want at your side.
ORANGE RENAISSANCE
THE LAST DAYS OF INFATUATIONS
Inspired by the favourite ingredient during the era of the De' Medicis in Florence, this joyful and charming blend pays tribute to the orange blossom. A celebratory fragrance which pays tribute to the richest period in cultural history - the Renaissance - evoking the orange blossom which was the predominant element in perfume at the time in Florence. This is the rebirth of an essence which has the power to seduce and burn with love.
Scenting Candle
Designer: Luca Nichetto
Made in Italy
Hand Decorated with Precious Metals
Dimensions: H 12 cm / 4,7 in. - L 9 cm / 3,5 in. - 190g / 6,7 oz
Material: Porcelain/Glass/Wax
HOW TO USE?
Please do not exceed 4 hours of continuous burn time and extinguish your candle. Allow the candle to cool, trim the wick and remove any debris from the wax before relighting. Keep wick trimmed to 5mm. Allow wax to harden before moving. Take care when extinguishing the flame. Keep candles 20cm apart and allow headroom for flame. If burning out of porcelain please place the candle on a coaster or other heat resistant surface. Keep away from draughts and sources of heat.
ABOUT THE BRAND
LCDC, La Compagnia di Caterina. Ginori1735 presents the brand's first venture in the world of home fragrances –these creations designed by Luca Nichetto are timeless, scented works of art.