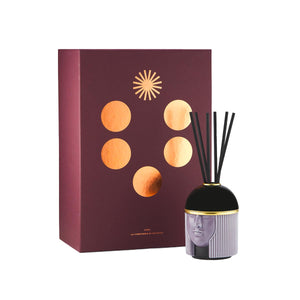 The scent diffuser with the 300-ml Purple Hill fragrance bottle and six diffuser sticks.
Symbol of leadership.
The Amazon takes charge of her own destiny, emboldening everyone around her. She is proud of herself and the world pays her respect.
The form of a fighting female figure. Proud and domineering, she wears a battle helmet as a symbol of her strength, but also her perceptiveness.
A fresh, light, floral fragrance, It evokes memories of the scent of the Tuscan hills in full spring bloom. A sensation which strikes you lingersand persuades you. It is the scent of harmony, which the world is ardently longing for.
Scent Diffuser
Designer: Luca Nichetto
Made in Italy
Hand Decorated with Precious Metals
Dimensions: H 15 cm / 6 in. - L 10,8 cm / 4,2 in. - 300 ml / 10,1 fl oz.
Material: Porcelain/Glass/Plastic/Oil
ABOUT THE BRAND
LCDC, La Compagnia di Caterina. Ginori1735 presents the brand's first venture in the world of home fragrances –these creations designed by Luca Nichetto are timeless, scented works of art.