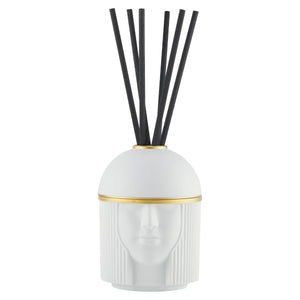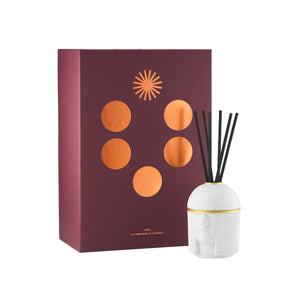 The scent diffuser with the 300-ml Black Stone fragrance bottle and six diffuser sticks.
Symbol of leadership.
The Amazon takes charge of her own destiny, emboldening everyone around her. She is proud of herself and the world pays her respect.
The form of a fighting female figure. Proud and domineering, she wears a battle helmet as a symbol of her strength, but also her perceptiveness.
Inspired by the Black Stone talisman given to Caterina de' Medici by an astrologer in her court. This perfume evokes the spices used by alchemists in that period. It is the fragrance of discovery, with the power to keep the fire burning in each of us.
Scent Diffuser
Designer: Luca Nichetto
Made in Italy
Hand Decorated with Precious Metals
Dimensions: H 15 cm / 6 in. - L 10,8 cm / 4,2 in. - 300 ml / 10,1 fl oz.
Material: Porcelain/Glass/Plastic/Oil
ABOUT THE BRAND
LCDC, La Compagnia di Caterina. Ginori1735 presents the brand's first venture in the world of home fragrances –these creations designed by Luca Nichetto are timeless, scented works of art.