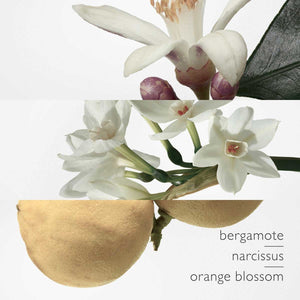 The mysterious freshness of narcissus faceted with notes of orange blossom.
"An utterly free creation in which I worked specifically to express the tactile nature of a raw material." Jean-Claude Ellena
An ode to a raw material endlessly reflected back by playing on its salient features, Eau de narcisse bleu is an unprecedented homage to freshness. An exercise in style that tames the sense of touch, faceted by orange blossom and galbanum.
This novella is written in a contemporary, very individual hand, creating a muted contrast between the dense textured note of narcissus and the delicacy of a woody accord.
ABOUT THE BRAND
Fragrance has been a part of the history of the house of Hermès since the 1930s. In the library of Hermès perfumes, every creation tells a story, opens up an imaginary world. As both artisan and artist, Hermès demonstrates through its creations the excellence of its craftsmanship and style; audacious and harmonious, timeless and elegant.