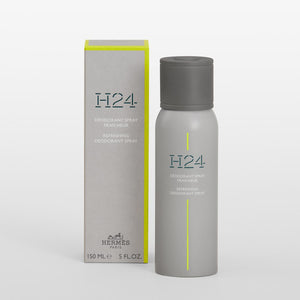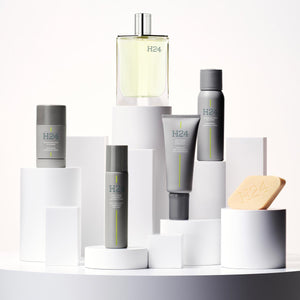 THE CREATION
H24 has infused a men's daily skincare line with its aromatic, fresh, botanical sillage.
Step two in the H24 ritual: the refreshing spray deodorant promises instant freshness and lasting well-being.
THE TEXTURE
A non-sticky spray deodorant which dries quickly.
THE FORMULATION
Its formula is composed of 96% ingredients of natural origin.
THE SKINCARE RESULT
It promises anti-dour protection and a lasting sensation of freshness.
ABOUT THE BRAND
Fragrance has been a part of the history of the house of Hermès since the 1930s. In the library of Hermès perfumes, every creation tells a story, opens up an imaginary world. As both artisan and artist, Hermès demonstrates through its creations the excellence of its craftsmanship and style; audacious and harmonious, timeless and elegant.