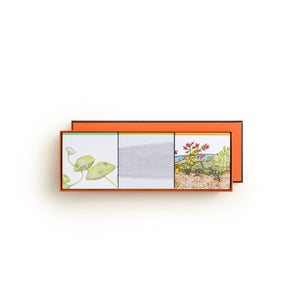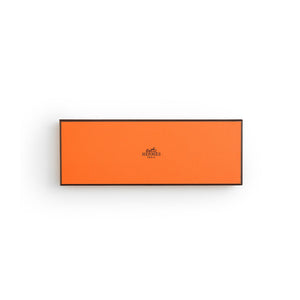 The Parfums-Jardins collection gift set consists of three fragrant soaps: Le Jardin de Monsieur Li, Un Jardin sur le Nil and Un Jardin a Cythere.
THE OBJECT
Each scented, pebble-shaped soap is slipped inside a paper box illustrated by an artist. A gift for yourself or for a loved one, presented in the house's iconic orange box.
OLFACTORY NOTES
Le Jardin de Monsieur Li: a floral and botanical fragrance that juxtaposes the delicate radiance of sambac jasmine, the tanginess of kumquat and the fiery notes of bergamot.
Un Jardin sur le Nil: a fruity, green and woody fragrance that combines the scents of green mango, lotus blossom and aromatic rush with incense and sycamore wood.
Un Jardin à Cythère: a citrus and woody fragrance that combines enveloping notes of grasses with the strength of olive wood and the tenderness of fresh pistachio.
THE PARFUMS-JARDINS COLLECTION
The Parfums-Jardins collection brings together the soul of a place, the perfumer's inspiration and the annual theme selected by Hermès. An aromatic journey for every moment, satisfying every desire for freshness, reverie or escape.
ABOUT THE BRAND
Fragrance has been a part of the history of the house of Hermès since the 1930s. In the library of Hermès perfumes, every creation tells a story, opens up an imaginary world. As both artisan and artist, Hermès demonstrates through its creations the excellence of its craftsmanship and style; audacious and harmonious, timeless and elegant.