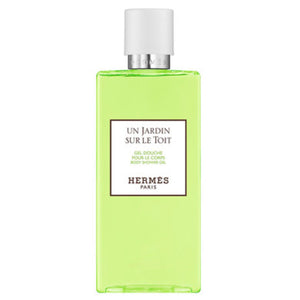 A smooth gel that transforms into a pleasant and easily rinsed lather. The skin is soft, supple and delicately perfumed. Another way to wear fragrance with Un Jardin sur le Toit.
"A garden that answers to no-one, a cheerful garden, watered with light." Jean-Claude Ellena
Un Jardin sur le Toit is a lively, edgy novella. This fragrance describes a secret garden, hidden in the heart of the city, in Paris. A hanging garden, perched on the rooftop of Hermès building at 24 Faubourg Saint-Honoré. An apple tree, a pear tree, a magnolia flourish in the Paris air, along with a few self-seeded imposters, all making up this scent of light and pleasure, enticing and full of laughter.
ABOUT THE BRAND
Fragrance has been a part of the history of the house of Hermès since the 1930s. In the library of Hermès perfumes, every creation tells a story, opens up an imaginary world. As both artisan and artist, Hermès demonstrates through its creations the excellence of its craftsmanship and style; audacious and harmonious, timeless and elegant.