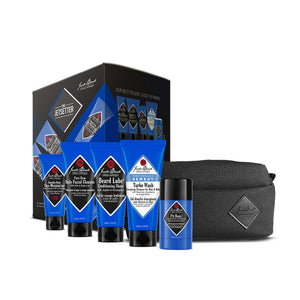 Product Highlights
You can find in the set : Double-Duty Face Moisturizer SPF 20, 1.5 oz
Pure Clean Daily Facial Cleanser, 3 oz
Beard Lube® Conditioning Shave, 3 oz
Turbo Wash® Energizing Cleanser for Hair & Body, 3 oz
Pit Boss® Antiperspirant & Deodorant, 2.75 oz
Luxe Travel Bag
Five Jack Black® bestsellers & a luxe travel bag. For the man who always goes first class. Head-to-toe solutions in travel-friendly sizes, curated for the man on the move.
HOW TO USE?
Double-Duty Face Moisturizer SPF 20 : Use after cleansing and shaving. Apply liberally to face and neck 15 minutes before sun exposure.
Pure Clean Daily Facial Cleanser : Apply a small amount to wet hands, work into a lather, apply to face. Rinse. Use morning and night to cleanse skin, follow with moisturizer.
Beard Lube® Conditioning Shave : Work a small amount into your slightly damp beard every time you shave–in the shower or immediately after showering. For areas with heavier, coarser whiskers, allow product to remain on skin for 60 seconds before shaving. Glide razor over face. Rinse with cold water. Great for trimming sideburns and edges.
Turbo Wash® Energizing Cleanser for Hair & Body : Use prior to exercise in a warm shower to loosen muscles, open airways, and help awaken the senses. Use after exercise to deep clean, refresh and soothe tired muscles. Use any time to invigorate, effectively cleanse and jump-start the body.
Pit Boss® Antiperspirant & Deodorant : Turn base of stick to raise solid, apply sparingly (two to three light strokes per armpit) to underarms only. Allow product to dry before dressing. Use morning or evening as needed.
ABOUT THE BRAND
Jack Black is a leading brand in the prestige men's skin care market - they offer premium quality, high-performance, easy-to-use grooming products for men. Jack Black is proud to be made in the USA and all of its products are cruelty-free. Each product is carefully formulated using the very finest ingredients, combining the latest technologies with time-tested natural remedies to create formulas that are not only effective, but also lightweight and non-greasy. Nothing complicated, nothing cosmetic, just superior skin care.