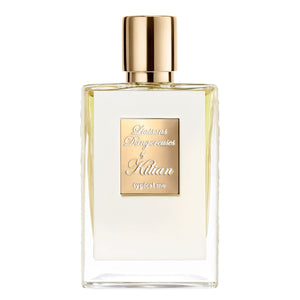 Liaisons Dangereuses, Typical Me
The connection intensifies as blackcurrant buds absolute mark love's stain, its deep purple undercurrents tangling with hedonistic ambrette seed essence, cultivated in the heat of equatorial terrain, mirroring heated nights of passion. Vanilla absolute and moss keep the scent suspended just above the natural world, keeping the secret safe a little while longer.
Key notes: Plum, Rose, Vanilla
HOW TO USE?
HOW TO USE?
ABOUT THE BRAND
ABOUT THE BRAND
In the pursuit of ultimate luxury, the brand was founded over a decade ago by Kilian Hennessy. From the dark cognac cellars of his childhood memories, to Paris most elegant evenings where desires roam free, KILIAN offers a menu of fragrances within four olfactory families' The Fresh, The Narcotics, The Cellars and The Smokes