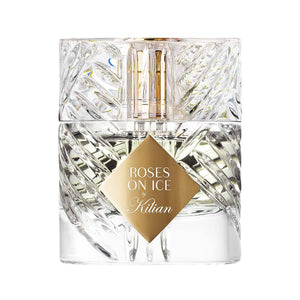 Anyone for notes of gin, distilled with rose and cucumber? The perfume Roses on Ice opens with the aquatic freshness of cucumber and the aromatic uplift of juniper berries, creating an icy sensation, rounded in an accord with voluptuous Rose Centifolia. Upon a drydown of sandalwood and musk, the scent expresses the sharp—yet deeply infused—character of gin consumed in its ideal.
Perfume notes: Cucumber, Juniper Berries and Rose
Perfumer: Frank Voelkl
HOW TO USE?
ABOUT THE BRAND
In the pursuit of ultimate luxury, the brand was founded over a decade ago by Kilian Hennessy. From the dark cognac cellars of his childhood memories, to Paris most elegant evenings where desires roam free, KILIAN offers a menu of fragrances within four olfactory families' The Fresh, The Narcotics, The Cellars and The Smokes